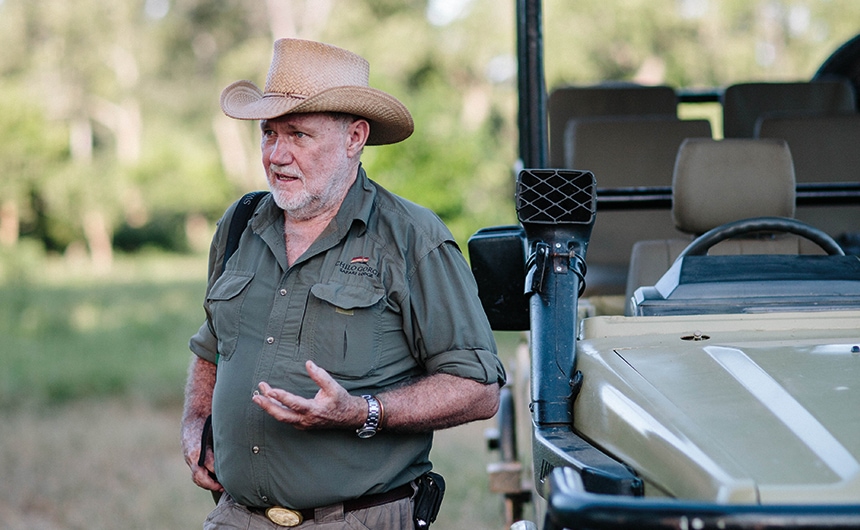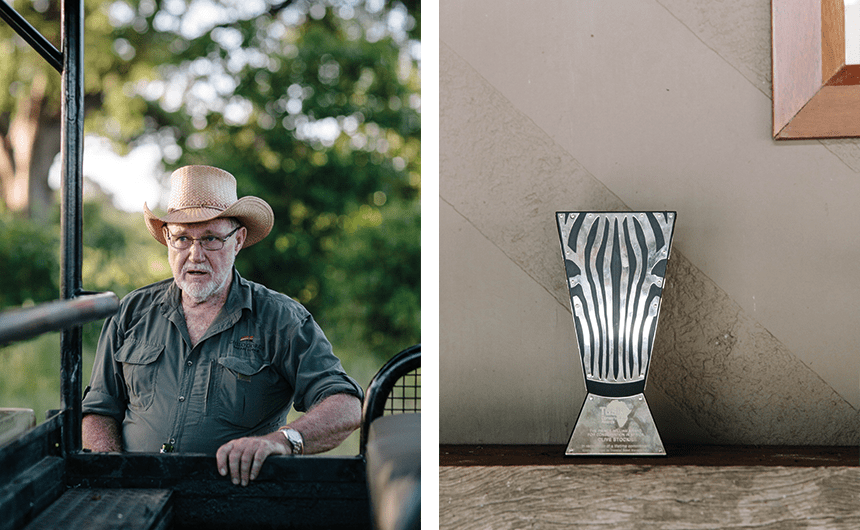 "I was born about 40km west of here, when it was still really wild and isolated, and my childhood companions were the local Shangaan kids. I grew up understanding their culture and learnt to speak their language. Communication is fundamental in my work, so that has always been an incredible asset. Chilo wouldn't be here if it wasn't for my connection with the park and the Shangaan. The wilderness gave us everything we needed as kids. The rivers were full of fish and we came here to camp and fish three or four times a year.
"Inevitably, the time came to go to school. I sat in the classroom in my shirt and tie hating every minute of it. I promised myself I would spend as much time in the bush as my soul needed as soon as I could. So after my ecology diploma, three of my Shangaan companions and I left for the bush. We had no idea how long we would be gone. I said to my parents, 'No news is good news! Don't worry – I'll see you when I get back!' All we had was a couple of fishing rods, a packet of salt and a 200lb bag of cornmeal. We started at the falls, and worked our way up the Runde to Chipinda Falls. We slept under the stars. It took us about four and a half months.
"Gonarezhou was made into a national park at the time of independence in 1980. The Shangaan were displaced, and though they went to Harare to ask the government for their homes back, they refused. They said Zimbabwe needed the parks for money and tourism, but it caused huge resentment. Poaching had been bad before, but now it increased tenfold. I was asked to be an honorary officer of Gonarezhou due to my knowledge of the area. When that was added to my history, links to the community and my language skills, I was asked to mediate. The conversation began in 1981, and the following year, the Shangaan asked me to represent them. I told them I was only a messenger, that I couldn't tell the government what to do, but if we came up with a logical strategy, they might just buy it. It took us years, but we got there. We went from a war between the park and the displaced community in '81, to building the first school in 1985, the lodges, and removing dependency on game hunting.
"We built Chilo Gorge Safari Lodge and Mahenye Lodge in the '90s when the economy was robust. It was a great success considering that we were setting up a new destination when all the world could think about was Victoria Falls, Hwange, and Kariba. But it was short-lived. In March 2000, land reform arrived. It was devastating. Zimbabwe was left out in the wilderness. There can be no doubt that things are changing, and the time has come for Zimbabwe. Even the most critical journalists say that it is one of the safest countries to visit in southern Africa. People can see our potential. Right now in Gonarezhou, you can drive for 100km, sleep in a different place every night and never see another light or another soul. I believe we have to retain this pristine wilderness for the future – we need to make sure any new influx of tourists doesn't harm the park. We're working with the Frankfurt Zoological Society to make sure we do it right.
"Gonarezhou is unique. The work we've been doing here has transformed it for everyone living here. It has turned conflict into co-operation and everyone has benefitted. The Shangaan are happy, the Park is happy, and the animals are happy."